ZADAR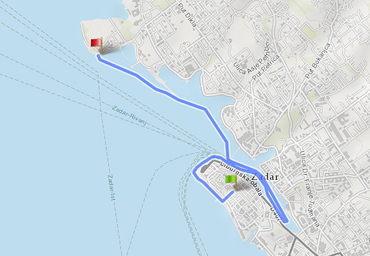 The event start at city promenade, where competitors 1st part of race run with kayaks.At Foša, competitors enter the kayaks and continiue the race by marked trail up to the horn of Puntamika.
The route length is 8000 meters, marked with bouy.
First wave of competitors start their race at 9:30, and later (depends on number of participants) every 3 hours goes new wave. Limit is 40 competitors per wave.
Info Point
Our Info Point is located on Main People's Square, behind the coffe bar Lovre. Info Point is open in period 10.-13.05. from 09:00 until 17:00 h
At Info Point you can pick up your starting packages, as well as get any additional info you may need.
Prizes
Male & Female, 3 places
Please stay tuned for announcement of great prizes in 2018!
Admission fees
Price includes: Race organisation, ZOF T-shirt, Emergency team, Beverage and snacks, Permits, Winner's prize..