ZADAR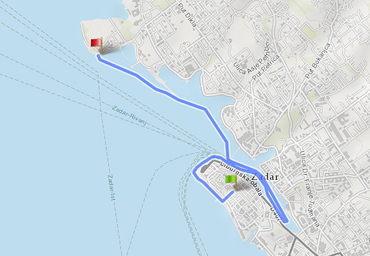 The event start at ancient Roman Forum, where competitors run with kayaks through the street of Zadar peninsula to the Sea Organ. From that point, kayaking kicks in. Passing by the city walls, under the pedestrian bridge, around sea fountain up to the lover's horn of Puntamika.
The route length is 6000 meters, marked with bouy.
First wave of competitors start their race at 9:30, and later (depends on number of participant) every 2 hours new wave. There is 40 competitors per wave.
Prizes
Male & Female, 3 places
1st place (male & female) - Weekend in Zadar region. 4 days/3 nights 4★ hotel for 2 persons*
2nd place (male & female) - Weekend in Zadar region. 3 days/2 nights in 3★ apartment for 2 persons
3rd place (male & female) - One day excursion in Zadar region for 2 persons
* Award for 1st and 2nd place is not valid to use between 15th of June and 15th of September
Admission fees
Price includes: Race organisation, ZOF T-shirt, Emergency team, Beverage and snacks, Permits, Winner's prize. Prices in Euros are approximate and depend on the exchange rate