ZADAR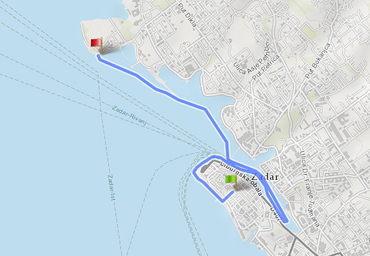 Kayak City Race is a tandem race which starts from Zadar's promenade. The competitors must carry their kayaks to the position at the promenade, where they enter the kayak and continue paddling along the marked route. The competitors which come to the position at the promenade first have the right to enter the sea first.
The route length is 6000 meters, marked with buoy.
First wave of competitors start their race at 9:30, and later (depends on number of participants) a new wave starts every 3 hours. The limit is 40 competitors per wave.
In case you applied alone, the organizer will find you a partner for the race. Do you already know with who you want to be paired up with? If so, please contact us on: filip.vulic@zadaroutdoor.com
Info Point
Our Info Point is located on Main People's Square, behind the Caffe bar Lovre. Info Point is open 10.05. from 14:00 until 20:00 h, and in period 11.-13.05. from 08:00 until 20:00 h.
At Info Point you can pick up your starting packages, as well as get any additional info you may need.
Prizes
Male & Female, 3 places
First place, women – Dubrovnik Outdoor Festival, 2 nights in tree house
Second place, women Cooking class
Third place, women Heineken surprise gift
First place, men Petrčane apartments, 2 nights for two
Second place, men Cooking class
Third place, men Heineken surprise gift
Admission fees
Regular until 01.05.2018 150,00kn
~ €20.37

Last minute until 13.05.2018 160,00kn
~ €21.72
Price includes: Race organisation, ZOF T-shirt, Emergency team, Beverage and snacks, Permits, Winner's prize..