ZADAR
Kayak City Race is a tandem race which starts from one of Zadar's most popular beaches - Puntamika. In 2019, on 3rd edition of the race, start and finish line will be on the same spot. The competitors who come to the finish first will enter the final race held in the afternoon.
The route length is 2000 meters, marked with buoy.
First wave of competitors start their race at 9:30 and later (depending on number of participants) a new wave starts every hour.
In case you applied alone, the organizer will find you a partner for the race.
Do you already know with who you want to be paired up with? If so, please contact us on: filip.vulic@zadaroutdoor.com
Info Point
Our Info Point is located on Narodni trg, behind the Lovre caffe bar. Info Point is open May 9th from 14:00 until 20:00h and in May 10th – 12th from 08:00 until 20:00 h (Sunday until 14:00 h).
At Info Point you can pick up your starting packages, as well as get any additional info you may need.
Prizes
Male & Female, 3 places
Please stay tuned for announcement of great prizes in 2019!
Photo Galleries

Photo Gallery 2018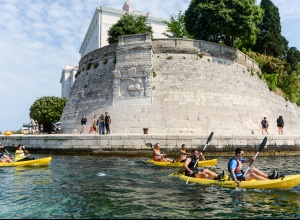 Admission fees
Early Bird until 31.12.2018 80,00kn
~ €10.83

Last minute until 10.05.2019 100,00kn
~ €13.54
Price includes: race organisation, ZOF T-shirt, emergency team, beverage and snacks, permits, winner's prize.
Registered participants
First name
Last name
Country
Activities
9
Marin
Skoblar
Triatlon klub TNT Zadar
10
Elizabeta
Mikolić
Triatlon klub TNT Zadar
111
Luka
Čolak
112
Ivan
Zrilic
166
Augustin
Cesljic
Sport2life
167
Iskra
Jurić
Running team split
186
MARIN
GRGUROVIĆ
187
JASMINKA
GRGUROVIĆ