ZRMANJA RIVER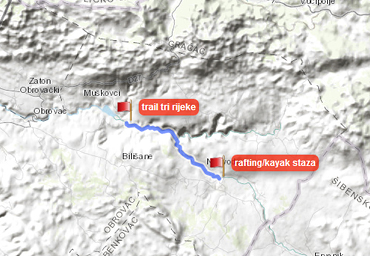 The Zrmanja River is 69 kilometers long, originates from a spring at the foot of the mountain Poštak in southern Lika and flows into the Adriatic Sea, 12 kilometers from Obrovac. At the upper reaches, the river forms a 7-kilometer wide valley, and from the medieval town of Zvonigrad, makes its way through the 200-meter deep canyon towards the sea. The canyon has numerous geomorphological forms: cracks, caves, underground streams, underwater caves, streams, and waterfalls. The canyon is the most beautiful in spring when it is adorned with abundant and endemic plants – this is why rafting is the best way to experience the natural beauty.
The competitive rafting route is 14.5 km long. It is usually completed in 2.5-3 hours, depending on the water levels. The launch is at Mlini Žegar, and the route ends near Berber's Buk.
The incline of the first 6 km of the course to the Veliki Buk waterfall is 2.5% and has many small streams and waterfalls. In this part, there are not many challenging obstacles. Directly in front of Veliki Buk, the river Krupa flows into the Zrmanja, its own catchment sources, and rivers Krnjeza. A hundred meters further we will encounter the Veliki Buk waterfall – at 11 meters tall this waterfall will be bypassed on foot.
In the lower part of the course, the incline of the river is increased to 6% and rapids, gorges and waterfalls become more intense.
Prizes
Team award, 3 places
1st place - Team wins the dinner in the restaurant in Zadar Old town
2nd place - Giftbox with domestic products of Zadar Region
3rd place - Giftbox with domestic products of Zadar Region
Admission fees
Important notice for participants
• The payment confirms the conditions of participation and the set rules and regulations
• The consumption of alcohol / drugs is strictly forbidden prior to the activity
• The managment reserves the right to refuse a participant, without explanation, if he discerns any type of unsuitability (injuries, pregnancy, alcoholism, etc.).
• In case of bad weather (which endangers safety) rafting is canceled – ex. strong wind
• Each participant, without exception, will bring the following: shoes or sneakers that can get wet (no flip-flops), rain jacket / raincoat in case of bad weather, swim suit or spare underwear, a towel and sunscreen. If you wear glasses, secure them with a strap, if you bring your camera make sure they are waterproof, and, regardless of the weather, bring a warm jacket and warm socks for later.
We note once again that due to the complexity of the organization, all rafting participants must strictly adhere to the specified time and schedules. In case of a delay / failure to appear with the equipment we do not guarantee a new appontment and will consider your ticket utilized.