ZADAR CHANNEL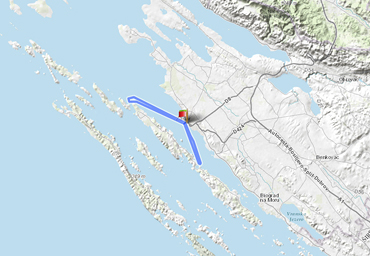 After gathering of all the participants of the regatta and transferring them on boats we're heading for the Zadar waterfront, where start of the regatta is scheduled for 10:30. The route will take us through the Zadar Channel, depending on the wind which will be favorable to us. 12 NM route will offer you the pleasure of views of the islands of Ugljan, Pasman and Zadar and the surrounding picturesque villages.
After sailing boats come to a certain point they will head back toward the waterfront, passing by the world-famous Sea Organ and Greeting to the Sun. Each boat having crossed the finish line will disembark its crew on the main pier so they can be present at announcement of the wining crew.


Organizer will provide boats and skippers for all competitors
The application must be filled through an on-line registration form
Minimum age is 16 years. Minor candidates are allowed to participate only when accompanied by, and under the responsibility of parents.
Competitors who withdraw are obliged to notify the organizers.
Competitors participate at their own risk. The organizer accepts no responsibility for property damage, personal injury, before, during and after the race.
CATEGORIES
Prize is awarded to those who first pass the finish line, and they will participate in the show match race with Olympic athletes
* When filling out the application indicate the name of the person with whom you want to be in the boat, otherwise you will get a partner chosen randomly by the organizers
COMPLEXITY OF THE REGATTA
Regatta is suitable for novice sailors (amateurs), no experience needed, each boat has its skipper.
Individual bookings are welcome!
DURATION OF THE REGATTA
Regatta takes about 3 hours, depending on the strentgh and regime of the wind.
INFO POINT
All information regarding the competition and the competition packages will be given in the historic center of Zadar, at Arsenal venue, on the address of Square Three wells 1, Zadar.
MANDATORY EQUIPMENT:
Competitor's number
Sunscreen
Windproof jacket
Sun glasses
cap
sports shoes
camera (at own responsibility)
REGATTA SCHEDULE
I. START
08:15 h - gathering of competitors on the address Obala kneza Branimira (at the bridge) for organized transfer to the marina Sukosan. In Sukošan introduction to skippers, boarding the boats and quick info on the basics of sailing. After that boats head to Zadar. Start of the regatta is scheduled for 10:30, at the Zadar waterfront.
After passing the finish line participants disembark on the old pier in Zadar, and skippers return the ships to the base Sukosan.

II. ANNOUNCEMENT OF THE WINNERS & PRIZE GIVING
ADDITIONAL OFFER
During the festival, additional offer will include: variety of workshops in which you can participate, gastro tours and interesting scientific lectures.
Prizes
Team award, 3 places
1st place - Team wins the dinner in the restaurant in Zadar Old town
2nd place - Giftbox with domestic products of Zadar Region
3rd place - Giftbox with domestic products of Zadar Region
Admission fees