ZADAR OLD TOWN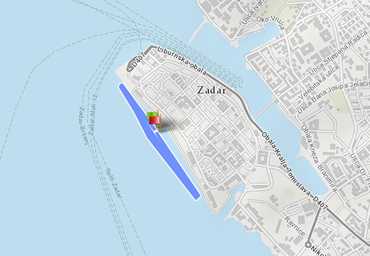 Starting from "obala Petra Krešimira IV" between Foša and Sea Organ – unique instalation, that will cheer you with sounds of sea. The route lenght is 1500 meters, shaped as traingle. Swimming two rows, finnishing the marathon after 3000 meters.
Start is at the northen side of the gate, swimming anticlockwise, further on the track will be market with buoy). Passing buoy with left shoulder. Finish line will be placed at the southern part of the gate and it will be marked out.
By the buoys boats with judges will be placed.
Prizes
Male & Female, 3 places
1st place (male & female) - Weekend in Zadar region. 4 days/3 nights 4★ hotel for 2 persons*
2nd place (male & female) - Weekend in Zadar region. 3 days/2 nights in 3★ apartment for 2 persons
3rd place (male & female) - One day excursion starting from Zadar, for 2 persons
* Award for 1st and 2nd place is not valid to use between 15th of June and 15th of September
Admission fees