ZADAR OLD TOWN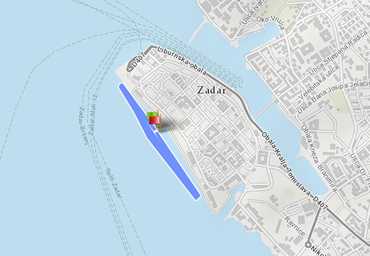 Starting from "obala Petra Krešimira IV" between Foša and Sea Organ – unique instalation, that will cheer you with sounds of sea. The route lenght is 1111 meters, shaped as traingle. Swimming two rows, finnishing the marathon after 2222 meters.
Start is at the northen side of the gate, swimming anticlockwise, further on the track location will be marked with buoy. Passing buoy with left shoulder. Finish line will be placed at the southern part of the gate and it will be marked by buoys at same point where boats with judges will be placed.
Info Point
Our Info Point is located on Main People's Square, behind the Caffe bar Lovre. Info Point is open 10.05. from 14:00 until 20:00 h, and in period 11.-13.05. from 08:00 until 20:00 h.
At Info Point you can pick up your starting packages, as well as get any additional info you may need.
Prizes
Male & Female, 3 places
First place, women Hotels Ilirija, weekend for two
Second place, women Flixbus- free return ticket (destination in Europe of your choice, transfers included
Third place, women Heineken surprise gift
First place, men Hotels Ilirija, weekend for two
Second place, men Flixbus free return ticket (destination in Europe of your choice, transfers included)
Third place, men Heineken surprise gift
Admission fees
Important notice for participants