PETRČANE - VIR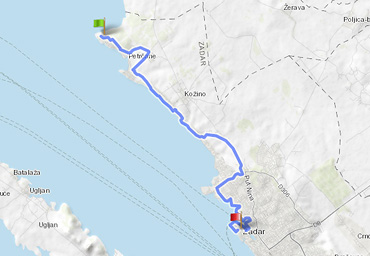 ZOF crew has prepared for you " 2018 MTB Cross Country" race for all MTB race lovers. The race goes from Petrčane to Zaton, Privlaka, Nin and ends at Vir. Route combines asphalt, gravel and pebble trails and paths which makes it interesting for all the MTB fans. Trail goes through picturesque villages along the coast line which enables you to enjoy fantastic scenery. Zadar and its surroundings is great for cycling so come with your friends and be a part of Zadar Outdoor Festival 2018!
We have prepared prizes for the winners and entertainment for all the participants.. We have prepared prizes for the winners and entertaiment for all the participants.


All contestants have to ensure bikes (the ones who don´t have a bike can rent one from organizer for 100 HRK per bike)
Organizer will ensure refreshment for all contestants during contest.
Application have to be fulfilled on on-line blank form for registration.
The race has recreational character and every person older than 18 has right to apply
Contestants have to follow marked track
Contestants who give up are obliged to inform organizers
Contestants are participating on their own responsibility. Organizer does not accept any responsibility for damage, personal injury before, during or after the race.
CATEGORIES
Competition takes place in the categories:
For each category award goes to first three places with best time.
DIFFICULTY
Race is of a recreational nature and the route is suitable for recreational cyclists.
DURATION
Competition lasts around 1,5 hour, depending on the physical abilities of competitors.
INFO POINT
All information regarding the competition and takeover contestants packages (awards) will be available in historical city center on location Three Wells 1, Zadar, Arsenal.
OBLIGATORY EQUIPEMENT:
MTB
Bottle of water
Suncream
Helmet
Windproof jacket (depending on weather)
SCHEDULE
TRANSFER
Free transfer competitors and bikes from Zadar to the starting location in Peterčane is scheduled for the period between 8.00 and 9.00 from Zadar to the north parking lot Halls "Kresimir Ćosić", Splitska Street 44A 23000 Zadar.
The exact dates of transfer competitors will get the notification e-mail two days before the race.
START
The start is scheduled for 10:30 am from Peterčane
WINNERS AND AWARDS
Awards celebration is planned at a dinner party at 21.00h at Trg Three wells 1, Zadar, Arsenal.
ADDITIONAL OFFER
During the festival, there will be a variety of workshops in which you can participate, additional catering services and interesting scientific lectures.
Prizes
Male & Female, 3 places
Please stay tuned for announcement of great prizes in 2018!
Admission fees
Price includes: Race organisation, Registration number, Zadaroutdoor T-shirt, Emergency team, Insurance, Award..
Important notice for participants