PETRČANE - ZATON - NIN - PRIVLAKA - VIR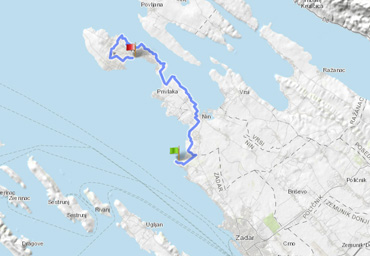 The race starts in Petrčane from the magnificent site of King's Vineyards. The gravel road begins immediately at the start. The route also passes through the ex military barracks Šepurine and after approximately 5 kilometers the competitors arrive at Zaton, famous tourist village where the beautiful beach is a proud holder of the Blue flag for cleanliness and water quality. Following the gravel road parallel with the main road the route leads competitors to Nin, one of the most important cities in the history of Croatia. In this part, the route follows a walking path by the seaside and then it connects to a narrow gravel road. On a few occassions there are bigger routes which need to be carefully crossed over. The route also passes over a sandy beach. Around the 15th kilometer the route exits on the main road where competitors need to be cautious and aware of the traffic. The main road takes us over the Vir bridge after which the route connects to a gravel road. Competitors are then off to a narrow rocky trail which brings them to the seaside. The last few kilometers takes the competitors on both asphalt and gravel road. The end of the race is in Vir, a village on the island with the same name.
Announcement of winners will be soon after, accompanied by music and great food.
But…it does not end here…Join us in the evening at newly opened Guma Bar which immediately became most popular bar in town; we're gonna have a great party!!
All contestants have to ensure bikes (those who don´t have a bike can rent one from the organizer for 120 HRK per bike)
Organizer will ensure refreshment for all contestants during contest.
Application has to be fulfilled through on-line registration form.
The race has recreational character and every person older than 18 has right to apply
Contestants have to follow marked track
Contestants that give up are obliged to inform the organizers about it
Contestants are participating on their own responsibility. Organizer does not accept any responsibility for damage, personal injury before, during or after the race.
CATEGORIES
Competition takes place in the categories:
For each category award goes to first three places with best time.
DIFFICULTY
Race is of a recreational nature and the route is suitable for recrenational cyclists.
DURATION
Competition lasts around 1,5 hour, depending on the physical abilities of competitors.
OBLIGATORY EQUIPEMENT:
MTB
Bottle of water
Suncream
Helmet
Windproof jacket (depending on weather)
SCHEDULE
START
The start is scheduled for 10:30 am from Petrčane, Kraljevski Vinogradi
ADDITIONAL OFFER
During the festival, there will be a variety of workshops in which you can participate, additional parties and interesting lectures.
Info Point
Our Info Point is located on Narodni trg, behind the Lovre caffe bar. Info Point is open May 9th from 14:00 until 20:00 h, and in May 10th – 12th from 08:00 until 20:00 h (Sunday until 14:00 h).
At Info Point you can pick up your starting packages, as well as get any additional info you may need.
Prizes
Male & Female, 3 places
| | |
| --- | --- |
| 1st place women | 2 overnights for 2 persons in Hotel Pinija, Petrčane |
| 1st place men | 2 overnights for 2 persons in 4* downtown apartments, Zadar |
| 2nd place women | Biking tour through the islands |
| 2nd place men | Biking tour through the islands |
| 3rd place women | Zadar Outdoor gift bag |
| 3rd place men | Zadar Outdoor gift bag |
Video
Photo Galleries

Photo Gallery 2018


Admission fees
Early Bird until 31.12.2018 120,00kn
~ €16.32

Regular until 01.05.2019 150,00kn
~ €20.39

Last minute until 10.05.2019 160,00kn
~ €21.75
Price includes: race organisation, registration number, ZOF T-shirt, emergency team, insurance, awards.
Important notice for participants
Registered participants
First name
Last name
Country
Activities
1
Vladislav
Prostran
Škola trčanja Zadar
2
Pavol
Husár
Bratislava
3
Sabina
Rzepka
Cyklosport Boleslawiec
4
Jacek
Domowicz
Cyklosport Boleslawiec
5
Daniel
Anušić
AK Plitvice
6
Vjeko
Ivaniš
7
Tanja
Barišić
BK Fortica
8
Marina
Kazija
BBK Pakoštane
9
Antoine
Lejeune
10
Frane
Vuica
Bk Relaks
11
Anamarija
Čevanić
Tim
12
Roberto
Peccolo
13
Hrvoje
Kohn
14
Oliver
Milosevic
15
Martin
Gulan
16
Domagoj
Govorčinović
17
Mateo
Uravić
18
Zvonimir
Šapina
19
Filip
Domazet
20
Hrvoje
Ćulumović
21
Marko
Švajda
22
Mario
Pepić
23
Josip
Gibicar
24
Josip
Ramljak
BK Ljubuški
25
Mario
Šarac
BK Ljubuški
26
Mirko
Luburić
BK Ljubuški
27
Valentina
Kristic
28
Toni
Milković
29
Dino
Jović
30
Marin
Jovic
31
Mateo
Čuvalo
BK Ljubuški
32
Silvija
Orlović
BK AKS
33
Bruno
Rudić
BK Macaklin
34
Luka
Škara
BK Zadar
35
Roko
Sestan
BK Zadar
36
Jurica
Ropuš
BK ZADAR
37
Piotr
Witeska
CST 7R MTB Team
38
Paulo
Grgić
Biciklistički klub Zadar
39
Miro
Jaman
Biciiklisticki klub Zadar
40
Nicolas
Gojkovic
Bk Zadar
41
Hrvoje
Mudrovčić
42
Neven
Radonić
43
Fran
Rubinić
BK Zadar
44
Josip
Žitković
Bbk Pakoštane
45
Romeo
Fantina
E-BIKE ZADAR
46
Vijeko
Fantina
E-BIKE ZADAR
47
Yvonne
Richner Skiljic
BBKP
48
Marin
Fantina
BBK Pakoštane
49
Željko
Krajcar
BBK Pakoštane
50
Marin
Zorica
BBK Pakoštane
51
Fabijan
Pejić
BBK PAKOŠTANE
52
Robert
Revesz
53
Roko
Šintić
BK Zadar
54
Roko
Fržop
BBK Orlov krug
55
Davor
Blaskovic