PETRČANE - VIR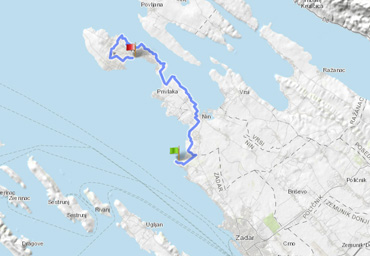 The race starts in Petrčane in the near vicinity of Falkensteiner Hotels & Residences Punta Skala. The gravel road begins only a few meters after the start. The route also passes through the ex military barracks Šepurine and after approximately 5 kilometers the competitors arrive in Zaton, a famous tourist village where the beautiful beach is a proud holder of the Blue flag for cleanliness and water quality. Following the gravel road parallel with the main road the route leads competitors to Nin, one of the most important cities in the history of Croatia. In this part, the route follows a walking path by the seaside, but only for a short period, when it connects back to a narrow gravel road. On a few ocassions there are bigger ruts which need to be carefully crossed over. The route also passes over a sandy beach. Around the 15th kilometer the route exits on the main road where competitors need to be cautious and aware of the traffic. The main road takes us over the Vir bridge after which the route connects to a gravel road. Competitors are then off to a narrow rocky trail which brings them to the seaside. The last few kilometers takes the competitors on both asphalt and gravel road. The end of the race is in Vir, a village on the island with the same name.


All contestants have to ensure bikes (those who don´t have a bike can rent one from the organizer for 120 HRK per bike)
Organizer will ensure refreshment for all contestants during contest.
Application has to be fulfilled through on-line registration form.
The race has recreational character and every person older than 18 has right to apply
Contestants have to follow marked track
Contestants that give up are obliged to inform the organizers about it
Contestants are participating on their own responsibility. Organizer does not accept any responsibility for damage, personal injury before, during or after the race.
CATEGORIES
Competition takes place in the categories:
For each category award goes to first three places with best time.
DIFFICULTY
Race is of a recreational nature and the route is suitable for recrenational cyclists.
DURATION
Competition lasts around 1,5 hour, depending on the physical abilities of competitors.


OBLIGATORY EQUIPEMENT:
MTB
Bottle of water
Suncream
Helmet
Windproof jacket (depending on weather)
SCHEDULE
START
The start is scheduled for 10:30 am from Petrčane
ADDITIONAL OFFER
During the festival, there will be a variety of workshops in which you can participate, additional parties and interesting lectures.
Info Point
Our Info Point is located on Main People's Square, behind the Caffe bar Lovre. Info Point is open 10.05. from 14:00 until 20:00 h, and in period 11.-13.05. from 08:00 until 20:00 h.
At Info Point you can pick up your starting packages, as well as get any additional info you may need.
Prizes
Male & Female, 3 places
First place, women – Villa Dalmacija, Preko, 2 nights for two in bed&breakfast apartment, available until 15.06. and 15.09.-30.10.
Second place, women – Kayak tour for two
Third place, women Heineken surprise gift
First place, men – Villa Plat, Kožino, 3 nights for two (breakfast included), available 15.09.2018.- 01.06.2018.
Second place, men Kayak tour for two
Third place, men Heineken surprise gift
Video
Admission fees
Regular until 01.05.2018 150,00kn
~ €20.37

Last minute until 12.05.2018 160,00kn
~ €21.72
Price includes: Race organisation, Registration number, Zadaroutdoor T-shirt, Emergency team, Insurance, Award..
Important notice for participants