PETRČANE - ZADAR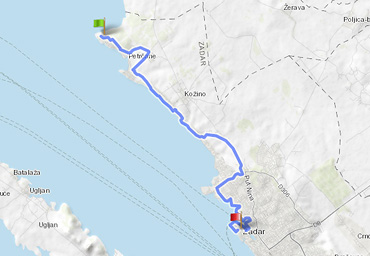 The race will start in picturesque fisherman village Peterčane which is placed between two significant dalmatian cities Zadar and Nin. The total lenght of the race is 18,5 km and it´s appropriate for every recreational cyclist.
Competitors will ride on route which includes some of the most attractive touristic locations in Zadar Region. After first 5 km competitors will arrive at Kožino, one of scenic dalmatian villages, known for it´s maritime ambience and friendly atmosphere. The race continues towards south passing the sea waterfront, trough thick forrest and scented mediterranian meadows and finishes in the centre of Zadar City at famous Roman Forum.
The first 2 km track from Peterčane race shares passes through paved road, followed by a narrow gravel road of 3.5 km through a field path and a narrow footpath Kožino. After Kožino follows share length of 1.5 km a combination of asphalt and wider gravel road until entering the area of Zadar Diklo. In Diklo starts asphalt road climb of 45 m height difference in the length of 1.7 km. At the top of the climb entering into a narrow section of the length of 2.2 km that passes pine trees called. "Mandrin track". "Mandrin trail" is the most challenging share of the race due to the narrow and winding trail. After "Mandrine track" enters the final part of the race through the city's asphalt roads length of 7 km. From the district Žmirići share is going down to the Puntamika, following the sea promenade along the Brodarica, crossing the ˝Bridge˝, visiting the Old Town peninsula and ˝Greeting to the Sun˝ and ends at the Roman Forum in the city center.


All contestants have to ensure bikes (the ones who don´t have a bike can rent one from organizer for 100 HRK per bike)
Organizer will ensure refreshment for all contestants during contest.
Application have to be fulfilled on on-line blank form for registration.
The race has recreational character and every person older than 18 has right to apply
Contestants have to follow marked track
Contestants who give up are obliged to inform organizers
Contestants are participating on their own responsibility. Organizer does not accept any responsibility for damage, personal injury before, during or after the race.
CATEGORIES
Competition takes place in the categories:
For each category award goes to first three places with best time.
DIFFICULTY
Race is of a recreational nature and the route is suitable for recrenational cyclists.
DURATION
Competition lasts around 1,5 hour, depending on the physical abilities of competitors.
INFO POINT
All information regarding the competition and takeover contestants packages (awards) will be available in historical city center on location Three Wells 1, Zadar, Arsenal.
OBLIGATORY EQUIPEMENT:
MTB
Bottle of water
Suncream
Helmet
Windproof jacket (depending on weather)
SCHEDULE
TRANSFER
Free transfer competitors and bikes from Zadar to the starting location in Peterčane is scheduled for the period between 8.00 and 9.00 from Zadar to the north parking lot Halls "Kresimir Ćosić", Splitska Street 44A 23000 Zadar.
The exact dates of transfer competitors will get the notification e-mail two days before the race.
START
The start is scheduled for 10:30 am from Peterčane
WINNERS AND AWARDS
Awards celebration is planned at a dinner party at 21.00h at Trg Three wells 1, Zadar, Arsenal.
ADDITIONAL OFFER
During the festival, there will be a variety of workshops in which you can participate, additional catering services and interesting scientific lectures.
Prizes
Male & Female, 3 places
1st place (male & female) - Weekend in Zadar region. 4 days/3 nights 4★ hotel for 2 persons*
2nd place (male & female) - Weekend in Zadar region. 3 days/2 nights in 3★ apartment for 2 persons
3rd place (male & female) - One day excursion in Zadar region for 2 persons
* Award for 1st and 2nd place is not valid to use between 15th of June and 15th of September
Admission fees
Price includes: Race organisation, Registration number, Zadaroutdoor T-shirt, Emergency team, Insurance, Award. Prices in Euros are approximate and depend on the exchange rate
Important notice for participants