Program
12:00 h – getting familiar with the equipment
12:15 – Skippers meeting for all joining the race
12:30 – RACE – open class (easy 1,7km)
13:30 – SUPer race eight rowers
14:00 - SUP family race
15:00 – Award ceremony
SUPer Saturday in Jazine bay, Zadar
Join us and have fun; parents bring children, kids bring your parents and try SUP together – stand up paddling on a board.
SUP race - open class
This race is open for individual applications - just you, your board and paddle ...let's see who wins!


SUPer race - eight rowers
Race that puts to test team work! You can apply with group of friends, or alone and we will match you to the group; in any case 8 is the winning number!


SUP Family Race* – here is a great chance for some family fun on the water! Old, young, big and small, you are all welcome to test which family is the fastest! If you're less than 8 – no worries, some may be worth for 2! If you think so -apply and prove it!

*for children under 10, and weaker swimmers we will secure lifejackets – only on request in advance!
Info Point
Our Info Point is located on Narodni trg, behind the Lovre caffe bar. Info Point is open May 8th & May 9th from 09:00 until 20:00 h
At Info Point you can pick up your starting packages, as well as get any additional info you may need.


Photo Galleries

Photo Gallery 2018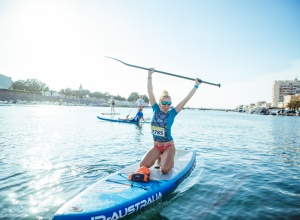 Admission fees
SUP race - open class
SUPer race - eight rowers
SUP Family Eighth Race
Price includes: ZOF T-shirt, Surf Shop has prepared valuble prizes.
Important notice for participants
SUP RACE – JAZINE BAY
DATE: 09.05.2020
START: 12:30 h
LOCATION: JAZINE BAY, pier by restaurant Harbor
Pick up of the starting packages is at INFO POINT in Caffe bar Lovre, People's Square 1, 23000 Zadar. Opening hours of Info point: 08.05. & 09.05. from 09:00-20:00
A personal document is required to pick up the starting number and the starting package. Pick up of the starting number for another person is only possible by presenting a person's personal document. Pick up of the starting numbers outside the opening hours of the Info Point is not possible.
Starting package content: ZOF t-shirt, bag for storing personal belongings in the wardrobe, gifts from sponsors, voucher for Guma bar
Refreshment is ensured at the start.
All participants are kindly requested to come to the start latest half an hour before the race
Measuring of time : Each participant will have a start number. The passing of competitors is marked at the START and at the FINISH. On the organizer's pages it will be possible to check the results.
The wardrobe for storing personal belongings for the duration of the race is ensured in the immediate vicinity of the start/finish. Storage is possible only in the bag which is part of the starter package and presenting the starting number. For unclaimed items in the specified time, it is necessary to contact the organizer's representative at contact number + 385 98 220 970
Personal clothing and equipment competitors:
Swimsuits and/or shorts and T-shirts
Old sneakers, neopren slippers or barefoot
Registered participants
First name
Last name
Country
Activities
1
Lukas
Kvartuč
2
Roko
Kvartuč
3
Karla
Večerina